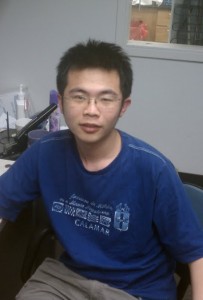 Email: ye.chen [at] rice.edu
Phone: +1 713.348.4393
January 2012 – Present

Research
Dynamics of cell-cell communication, quorum sensing reporter system

Background
Bachelor of Science: Biotechnology – Zhejiang University, Hangzhou, Zhejiang, China, 2011
Undergraduate Researcher: Gao Lab

Publications
1. Masiello, C. A., Gao, X., Chen, Y., Bennett, M. R., Zygourakis, K., Rudgers, J., Liu, S., Wagner, D. & Silberg, J. J. "Pyrolysis temperature determines biochar effects on microbial communication." Environ. Sci. Technol. 47 (20) 11496-11503 (2013).