Calvin Schmidt
Undergraduate Researcher
December 2010 – June 2014
Now at the Stanford Bioengineering PhD Program

Publications:
1. C. M. Schmidt, D. L. Shis, T. D. Nguyen-Huu & M. R. Bennett, "Stable maintenance of multiple plasmids in E. coli using a single selective marker." ACS Synthetic Biology 1 (10), 445-450 (2012).



Faiza Hussain
Postdoctoral Researcher
2011 – November 2013
Now at Shell

Publications:
1. Shis DL, Hussain F, Meinhardt S, Swint-Kruse L & Bennett MR. "Modular transcriptional logic gating." Submitted (2014).

2. Hussain F, Gupta C, Hirning AJ, Ott WR, Matthews KS, Josic K & Bennett MR. "Engineered temperature compensation in a synthetic genetic clock." Proc. Natl. Acad. Sci. USA 111, 972-977 (2014).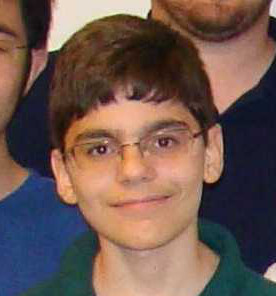 Adam Atanas
High School Researcher
June 2012 – June 2013
Now at Harvard



Timothy Hallacy
Undergraduate Researcher
June 2012 – June 2013



Linda Wang
Undergraduate Researcher
October 2011 – May 2012
Now at the Oregon Health and Science University School of Medicine



Yu Liu
Undergraduate Researcher
October 2010 – May 2012
Now at UC Irvine

Publications:
1. Son, B., Liu, Y., & Kroos, L. (2011). Combinatorial regulation by MrpC2 and FruA involves three sites in the fmgE promoter region during Myxococcus xanthus development. Journal of bacteriology, 193(11), 2756-66. doi:10.1128/JB.00205-11

Nicholas Tiee
Undergraduate Researcher
Now at UC San Diego



Elizabeth Van Itallie
Undergraduate Researcher
October 2009 – May 2012
Now at the Harvard Systems Biology PhD Program

Publications:
1. D. Nevozhay, R. M. Adams, E. Van Itallie, M. R. Bennett and G. Balázsi, "Population-level control of gene expression," PLoS Comp. Biol. 8, e1002480 (2012).

2. E. L. O'Brien, E. Van Itallie and M. R. Bennett, "Modeling synthetic gene oscillators," Math. Biosci. 236, 1-15 (2012).

3. M. Pena, E. Van Itallie, M. R. Bennett and Y. Shamoo, "Evolution of a single gene highlights the complexity underlying molecular descriptions of fitness," CHAOS 20, 026107 (2010).

Selina Garcia
High School Researcher
Summer 2011
Now at the University of Houston

Robert Wayne Jr.
High School Researcher
Summer 2010 and 2011
Now at the University of Texas, Austin