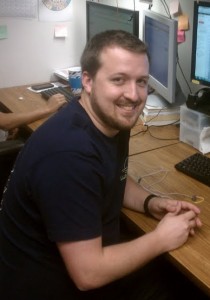 Email: andrew.j.hirning [at] rice.edu
Phone: +1 713.348.4393
January 2011 – Present

Research
synthetic gene networks, microfluidic device design, protein structure/function

I am interested in studying the multi-scale relationship between protein structure and genetic network function.

Background
Bachelor of Science: Biochemistry, Biology – Loyola Marymount University
Undergraduate Researcher: Doezema Lab – LMU
Summer Researcher: Sudquist Lab – Utah

Publications
Hussain, F., Gupta, C., Hirning, A. J., Ott, W. R., Matthews, K. S., Josic, K. & Bennett, M. R. "Engineered temperature compensation in a synthetic gene clock." Proc. Natl. Acad. Sci. USA 111, 972-977 (2014).